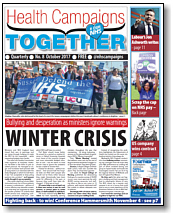 Issue 8 of our quarterly tabloid newspaper
is full of up to date information
for campaigners and union activists.
You can
access all 12 pages online here
and
order your printed copies now
for local campaigning.
This issue features an exclusive article by
Labour's Shadow Health Secretary Jon Ashworth
. Plus news and views from campaigns across the country and details of our November 4 conference.
For fastest delivery, order now online and
pay by bank transfer or cheque here
.
DID YOU MISS OUR EARLIER ISSUES?
Back issues of the newspaper can be downloaded here
Next issue will be published January 2018 -
order now to avoid disappointment!