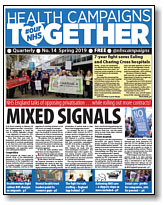 NEW! Health Campaigns Together newspaper No. 14 - download now!
Issue 14 of our quarterly tabloid newspaper, 12 pages filled with news, analysis and comment, is available to download free NOW, with printed copies for campaigning available from
April 4
.
Top stories include * Victory in North West London; * fighting PET scanner privatisation in Oxfordshire; * fighting RATIONING and CHARGES for NHS treatment; * updates to many campaigns; * social care; * mental health; and * the threat to scrap A&E and elective performance targets. Plus a column from
Jonathan Ashworth MP, Labour's shadow Health Secretary.
Every issue is
FREE to read online.
For campaigning, order bundles
ONLINE NOW
.
Download back issues of the newspaper here