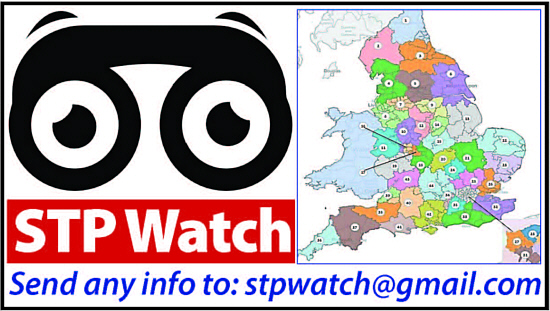 STP Watch - key information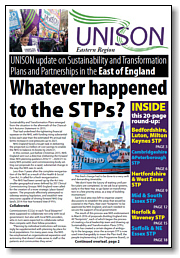 Whatever Happened to the STPs? by John Lister is a report compiled in June 2018. It was commissioned by UNISON Eastern Region to give members and representatives a realistic analysis of the situation in each STP area.

There are six STPs in the region, covering Bedfordshire, Luton & Milton Keynes, Cambridgeshire & Peterborough, Hertfordshire & West Essex, Mid & South Essex, Norfolk & Waveney and Suffolk & NE Essex.

Sustainability and Transformation Plans emerged from the aftermath of the Chancellor's Autumn Statement in 2015 that had underlined the tightening financial squeeze on the NHS. During 2016 as seceret discussions took place to formulate the plans, STPs became a toxic brand in many areas even before they were published at the end of that year. They have been relegated in many areas to low-profile and limited plans for change.

Secrecy and obscure language have contributed to public ignorance over STPs, while the documents themselves appeared incomplete and unconvincing from the beginning. However this does not mean that the plans themselves are unimportant. If NHS England had got its way, they would have potentially represented a landmark moment in the development of the NHS in England.

This brief survey of what has transpired since the STPs were published at the end of 2016 shows that many of the claims for what STPs might represent and achieve have proved unrealistic. Few have progressed to any extent down the path of genuine collaboration and local partnership. Much of the "integration" that has taken place has in fact been alliances and mergers of commissioners on the one hand and providers on the other – leaving the NHS "purchaser/ provider split" substantially intact.

But another crucial weakness has been exposed – the limited engagement with local government, notably in Bedfordshire, Luton and Milton Keynes (BLMK) STP where three of the four council participants have warned they will pull out of their limited engagement with the process unless there was more serious attention paid to the issues facing councils and a more realistic timetable for implementing changes. The BLMK STP was supposed to be in the vanguard of developing "Integrated Care Systems".

Finally it is worth drawing attention to the near-universal deficits facing acute hospital trusts across the six STPs. While some of the CCGs have built up substantial surpluses they show no inclination to move towards any genuine integration or sharing of resources and decision-making.

Read or download the full report HERE.


STP Footprints
All 44 STPs have now been published - some of them only in response to campaigners, and some of these still incomplete, lacking Appendices outlining finances and more details.

Click here for a detailed list of STP Footprints, appendices and additional information.

A growing list of council leaders and bodies have spoken out and challenged local STPs, in London, the Midlands, the North West and Yorkshire. The most recent is Liverpool, where the council leader and the Health & Wellbeing Board came out strongly against the Cheshire & Merseyside STP. Hammersmith & Fulham council, in alliance with Ealing, is committed to a legal challenge to their local STP, which threatens beds and services in Ealing and Charing Cross hospitals. There has also been a rejection of STPs by boroughs in SW London and North Central London. Let us know where your local council (and MPs) stand on STP plans.



There's one common factor: health workers and the local public are the last to be informed and only offered "engagement" or token consultation on already final plans as a final gesture before implementation. Since the NHS is so obsessively secretive, Health Campaigns Together and other campaigners across the country are pressing council leaders - our elected representatives - to follow those in Hammersmith & Fulham, Ealing and Sutton refusing to sign up for STPs that involve cuts in services, and the growing list of councils that have published STPs ahead of NHS England's plans.

The Plans may be delayed, but the pressure for cuts is forcing the pace of changes that are NOT set out in the STPs. A&E units, maternity and other services are being closed on "safety" grounds without consultation in smaller hospitals - indicating the way many of the cutbacks will be driven through, regardless of the fancy phrases in the STP plans.

But this does not mean we should not challenge the STPs in every area, the assumptions they are based on, the lack of evidence for some of their more ambitious innovations, and the lack of capital for any of the promised new services. Taking on the STPs helps to alert local people to the looming threat to local services, and gear up for the battles that must be waged to stop local closures that can put lives and health of vulnerable people at risk.

There is still no proposal for public consultation on the Plans - or even in some cases publication of the proposals - before they are submitted to NHS England and then implemented.

It seems that the governance structures may also vary: some plan to establish a new Health & Care Executive, with delegated powers to decide policy and take binding decisions on behalf of all constituent organisations. This fits with Simon Stevens' clear call for new forms of Combined Authorities that enable local NHS bosses to "overcome veto power" - as outlined in an interview with the Health Service Journal.

STP Watch will share relevant news and outlines of STP plans - June, October and subsequent - as we receive them, so that local campaigners can be aware of what is taking shape across the country. Please forward any new information to us at stpwatch@gmail.com.



National / Background Material
Areas for which we have information
Click here for a detailed list of STP Footprints, appendices and additional information.


Hackney shows the weakness of STPs: time to follow suit
City & Hackney Clinical Commissioning Group has finally been the one to state openly that the STP emperor has no clothes – by insisting, with the support of legal advice that STPs lack any legal status or powers to compel CCGs or other "partners" to comply with majority decisions.

This potentially throws a spanner in the works of all 44 STPs consolidating themselves as bodies to drive controversial cuts, reconfiguration and service changes.

As some campaigners and analysts have argued from the beginning, they have no right to tell any organisation to do anything. And as bodies which function in secret with no transparency or publication of minutes, the STPs lack any legitimacy or public acceptance.

Conservative manifesto promises of plans to change the law to allow STPs to take control have had to be scrapped after Theresa May failed to secure a majority. Now the weakness that remains has been powerfully exposed in Hackney, and the door is wide open for campaigners to demand other CCGs and councils take up a similar stance.

The CCG has stood out against the plan to merge all 7 NE London CCGs under just one "Accountable Officer" thus minimising – and effectively dodging – any accountability to local people any of the seven NE London boroughs.

Hackney council's Oversight & Scrutiny Committee has endorsed this with a powerful letter insisting on the need to retain the statutory levels of accountability that has remained after the disastrous 2012 Health & Social Care Act scrapped previous bodies and established CCGs.

The Health Service Journal publicising the CCG's stand, the legal advice sent to the CCG and the letter endorsing the CCG's position and restating clearly the case against local bodies being compelled into collective decisions and losing accountability are all available here.

http://www.hempsons.co.uk/ccg-governance-lessons-learned/

Hackney KONP's Carol Ackroyd has sent this letter to the local Hackney Gazette:

'Dear Hackney Gazette,

'NHS England (NHSE) are determined to roll out country-wide plans for 44 Sustainability and Transformation Partnerships, which will cut £22bn from the NHS budget by 2021 and create Accountable Care Systems (ACSs) which make the NHS more susceptible to takeover by healthcare corporations.

The new East London Health & Care Partnership (ELHCP) covers 7 East London Boroughs, including Hackney, and its Sustainability and Transformation Plan will involve massive reductions in NHS services in the face of a projected 18% rise in population by 2025

NHSE have made it clear that they expect Clinical Commissioning Groups (CCGs) to co-operate with these frightening aims. However City & Hackney CCG are reluctant to hand over responsibility for local decisions about NHS organisation and funding to the ELHCP, based on advice from their lawyers as to the legality of ELHCP's proposed arrangements. We applaud the fact that Hackney Council is opposing this loss of control over local NHS resources.

However NHSE have reacted to this by expressing 'concern about decision-making processes' in the CCG, and have hired consultancy firm Deloitte (no doubt at considerable expense) to 'investigate further'.

City & Hackney CCG is one of the most successful CCGs in the country. We are extremely concerned that it is being pressured in this way and that Hackney Council's right to control local NHS resources is being undermined.

We hope that the Hackney Gazette, its readers and local people will give every support to the Council and CCG by emailing their local councillors and/or Mayor Philip Glanville, to confirm they want the CCG and Hackney Council to retain their lawful control over local NHS resources.

Yours sincerely
Carol Ackroyd
On behalf of Hackney Keep Our NHS Public



South Essex STP in chaos as plans to downgrade A&Es are scrapped
Local campaigners are triumphant after plans to downgrade A&E services in Southend and Chelmsford's Broomfield Hospital were abandoned by local NHS chiefs.

Controversial plans to downgrade two A&E departments in Southend and Chelmsford's Broomfield Hospital have been effectively dropped after sustained pressure from campaigners clearly made an impact on local politicians: the Tories held on to seats in June, but have clearly pushed behind the scenes to get the plan dropped.

Local campaigner and former hospital specialist Norman Traub says

"It has been a great campaign. The local paper, the Echo in yesterday's article on the victory of the campaign, headed the article "People power wins big U Turn on A&E plans". During the campaign, angry constituents at a public meeting forced a local Tory MP, Sir David Amess to sign a petition against the downgrading of Southend A&E.

"This confirmed to us that our campaign's message was getting across. In today's Echo he is quoted as saying

"This is a victory for every concerned resident who wrote to me and campaigned". The lead news item in yesterday's BBC Look East News (television) featured the victory of the campaign against the downgrading of our A&Es in Mid and South Essex."

The input of national KONP and HCT into our campaign has been crucial. Our victory belongs to KONP and HCT and the hundreds of thousands campaigners throughout the country, fighting to save the NHS."



What NHS Finance chiefs thought about STPs
CCGs give ground in East London Standoff
Document from East London local CCGs attempting to retain maximum control in the face of drive by the local STP (now rebranded as East London Health & Care Partnership (ELHCP) to merge 7 CCGs in North East London into one with a Single Accountable Officer, backed up by the threat of possible funding for "transformation" being withheld:

Read here