A coalition to defend #ourNHS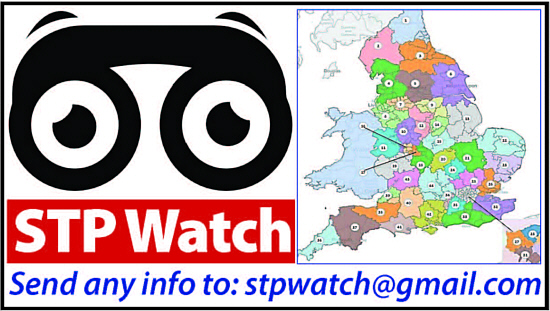 All 44 STPs were published at the end of 2016 -- many of them still visibly incomplete, with most of them lacking Appendices outlining finances and more details. They are now proceeding behind the scenes.

Insofar as they are based on any clear assumptions, many STPs share a common approach of seeking to reduce use of hospital services, reduce hospital provision, and introduce "new models of care". What evidence is there that this approach can work and that new models of care are viable? CLICK HERE for a review by John Lister of the evidence base behind the STPs and the 5-Year Forward View.

We still want to find the missing Appendices and other documents. Please forward any you find, and press your local council, and councillors, including their Health Oversight & Scrutiny and Health & Wellbeing Boards as well as CCGs and local trusts to challenge proposals in STPs that threaten local access to health services. Demand local candidates commit to fighting in defence of local health services.
| | | | | |
| --- | --- | --- | --- | --- |
| No. | Footprint | Area | Docs | STP issued |
| 1 | Northumberland, Tyne and Wear & N Durham | North East | 2 | 21 Oct 2016 |
| 2 | West, North and East Cumbria | North West | 3 | 1 Oct 2016 |
| 3 | Durham, Darlington, Tees, Hambleton, Richmondshire and Whitby | North East | 1 | 1 Oct 2016 |
| 4 | Lancashire and South Cumbria | North West | 2 | 21 Oct 2016 |
| 5 | West Yorkshire | Yorkshire | 4 | 1 Oct 2016 |
| 6 | Coast, Humber and Vale | North East | 1 | 21 Oct 2016 |
| 7 | Greater Manchester | North West | 1 | 18 Oct 2016 |
| 8 | Cheshire and Merseyside | North West | 4 | 21 Oct 2016 |
| 9 | South Yorkshire and Bassetlaw | Yorkshire | 3 | 11 Nov 2016 |
| 10 | Staffordshire | Midlands | 2 | 15 Dec 2016 |
| 11 | Shropshire and Telford and Wrekin | Midlands | 3 | 28 Nov 2016 |
| 12 | Derbyshire | Midlands | 1 | 21 Oct 2016 |
| 13 | Lincolnshire | East | 1 | 6 Dec 2016 |
| 14 | Nottinghamshire | Midlands | 1 | 21 Oct 2016 |
| 15 | Leicester, Leicestershire and Rutland | Midlands | 3 | 21 Nov 2016 |
| 16 | Black Country | Midlands | 2 | 20 Oct 2016 |
| 17 | Birmingham and Solihull | Midlands | 1 | 21 Oct 2016 |
| 18 | Coventry and Warwickshire | Midlands | 1 | 6 Dec 2016 |
| 19 | Herefordshire and Worcestershire | Midlands | 1 | 22 Nov 2016 |
| 20 | Northamptonshire | Midlands | 1 | 21 Oct 2016 |
| 21 | Cambridgeshire and Peterborough | East | 4 | 21 Oct 2016 |
| 22 | Norfolk and Waveney | East | 3 | 17 Nov 2016 |
| 23 | Suffolk and North East Essex STP | East | 1 | 20 Oct 2016 |
| 24 | Bedfordshire Luton & Milton Keynes | East | 1 | 21 Oct 2016 |
| 25 | Hertfordshire and West Essex | East | 4 | 21 Oct 2016 |
| 26 | Mid and South Essex | East | 1 | 21 Oct 2016 |
| 27 | North West London | London NW | 11 | 21 Oct 2016 |
| 28 | North Central London | London NC | 1 | 21 Oct 2016 |
| 29 | North East London | London NE | 4 | 21 Oct 2016 |
| 30 | South East London | London SE | 23 | 21 Oct 2016 |
| 31 | South West London | London SW | 4 | 21 Oct 2016 |
| 32 | Kent and Medway | South East | 1 | 21 Oct 2016 |
| 33 | Sussex and East Surrey | South East | 2 | 22 Nov 2016 |
| 34 | Frimley Health | South East | 1 | 21 Oct 2016 |
| 35 | Surrey Heartlands | South East | 1 | 21 Oct 2016 |
| 36 | Cornwall and the Isles of Scilly | South West | 3 | 21 Oct 2016 |
| 37 | Devon | South West | 4 | 4 Nov 2016 |
| 38 | Somerset | South West | 1 | 21 Oct 2016 |
| 39 | Bristol, North Somerset and South Gloucestershire | South West | 1 | 21 Oct 2016 |
| 40 | Bath, Swindon and Wiltshire | South West | 2 | 14 Dec 2016 |
| 41 | Dorset | South West | 2 | 21 Oct 2016 |
| 42 | Hampshire and the Isle of Wight | South | 5 | 23 Nov 2016 |
| 43 | Gloucestershire | South West | 1 | 10 Nov 2016 |
| 44 | Buckinghamshire, Oxfordshire and Berkshire West | South | 1 | 15 Nov 2016 |
East
London NC
London NE
London NW
London SE
London SW
Midlands
North East
North West
South
South East
South West
Yorkshire
Copyright © 2023 Health Campaigns Together