A coalition to defend #ourNHS
Conference Reports
OVER 90 attend Leeds Health Campaigns Together to Win conference
Huge thanks to all of you who came to the Yorkshire Health Campaigns Together to Win Conference on October 15 and contributed their knowledge, ideas and enthusiasm so freely and to our three speakers, Dr David Wrigley, John Lister and Dr James Chan.

There was a great fighting spirit in the room from a wide spread of campaigners, health workers and trade unionists from Wakefield, Dewsbury, Halifax, Huddersfield, Leeds, Harrogate, Bradford, Ilkley, Otley, Keighley, Barnsley and Sheffield, with two very welcome activists from Manchester.

Stacey Booth, regional health organiser for the GMB was there all day, and we had Unite and Unison Branch chairs from Barnsley Hospital and Mid Staffs, the Secretary and Chair of Mid Yorkshire Hospitals UNISON, a number of GMB, Unite and Unison stewards, and at least one local councillor!

Nick Jones took some video snippets of the speakers which you can see on Leeds Keep Our NHS Public facebook : https://www.facebook.com/groups/141710829185241

It is too soon to have collectively digested and scooped up all the info and ideas from the Conference but we thought it would be useful to:
summarise the key actions we agreed pretty quickly, (click HERE)
send out links to useful websites (see below) and
circulate a summary of the only doc that has been released to the public in Leeds regarding the West Yorks footprint (click HERE) For those who are not familiar with STP plans at all this may give some idea of where they are coming from even though sanitised, wrapped in rainbows, lacking in detail, not backed up by evidence and mainly silent on what savings( i.e. cuts) are going to be made and how the finances have any hope of stacking up.
Jenny Shepherd is going to prepare a single info sheet for campaigners within the West Yorks footprint, and is working with others on a fact pack, so more to come.

We will also circulate summary docs or references to requirements re public consultation and engagement.

PLEASE NOTE that Calderdale activists are organising a rally on Friday 21st October 12.00-1.00 outside the West Yorks STP Office / CCG offices in Wakefield (White Rose House, West Parade, Wakefield WF1 1LT )to protest against the Yorkshire STP Plan, and the speed and secrecy with which it is being rushed through. All support appreciated.

Some sources of information, ideas and resources:

Within Yorkshire,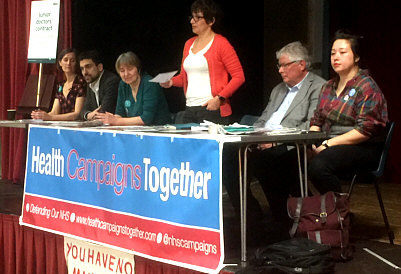 Defending the NHS conference
Saturday 30 January 2016, London Welsh Centre

For those who missed this successful conference, and for those who enjoyed it and want to remember what was said, click here to read what the key platform speakers said.



Copyright © 2022 Health Campaigns Together