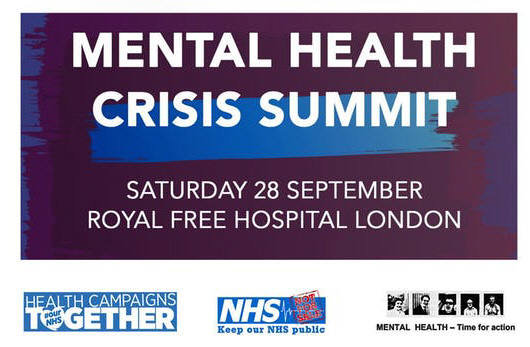 There is a crisis in mental health services in the UK
It's time to act.

Almost 7000 mental health nurses were lost from 2009 to 2018. Meanwhile, the number of doctors in specialist psychiatric training fell by 20%, and beds available for patients with serious mental health issues fell by over 8000.

That's why we're holding a one-day conference in September this year to take a closer look at the mental health crisis - what's driving it, how government decisions have let it worsen over time, and what action we can take to set things right.


WHEN: Saturday 28 September 10am - 5pm

WHERE: Royal Free Hospital School of Medicine,
Rowland Hill Street, London NW3 2PF
(nearest tube Belsize Park, Northern Line)


If you're having difficulty paying and would still like to attend, please contact us at nationaladmin@keepournhspublic.com, and we can sort out a free ticket.


It's time to act
Speakers
So far we are going to be joined by Jonathan Ashworth MP Shadow Secretary for Health (tbc), Ken Loach film director (tbc), Diane Abbott MP Shadow Home Secretary (tbc), Lowkey musician and activist (tbc), Ian Hodson National President BFAWU, Dr Louise Irvine Health Campaigns Together, Dr Vic Chapman from the Royal Free, Cath Wakeman OBE trauma therapist, Dr Nihal Fernando Consultant Psychiatrist, and many more...

Check out the Facebook event here

Event is hosted by

https://www.healthcampaignstogether.com
https://keepournhspublic.com
https://mentalhealthtimeforaction.org