Pressure builds for early pay rise for NHS staff
Nationwide protests August 8

(All photos Jess Hurd, reportdigital.co.uk)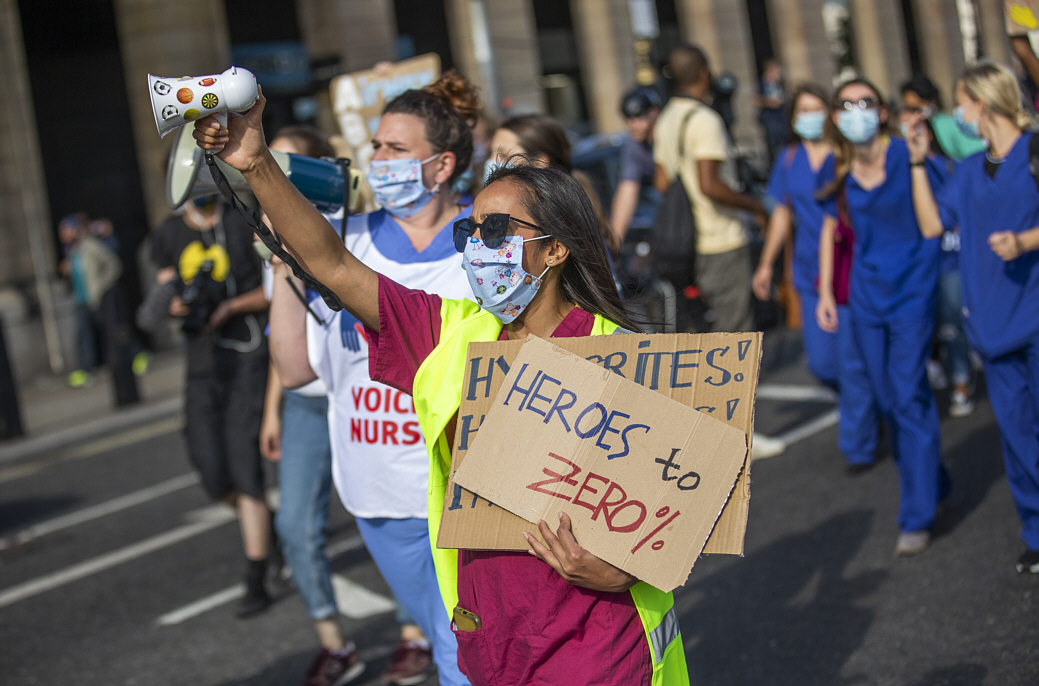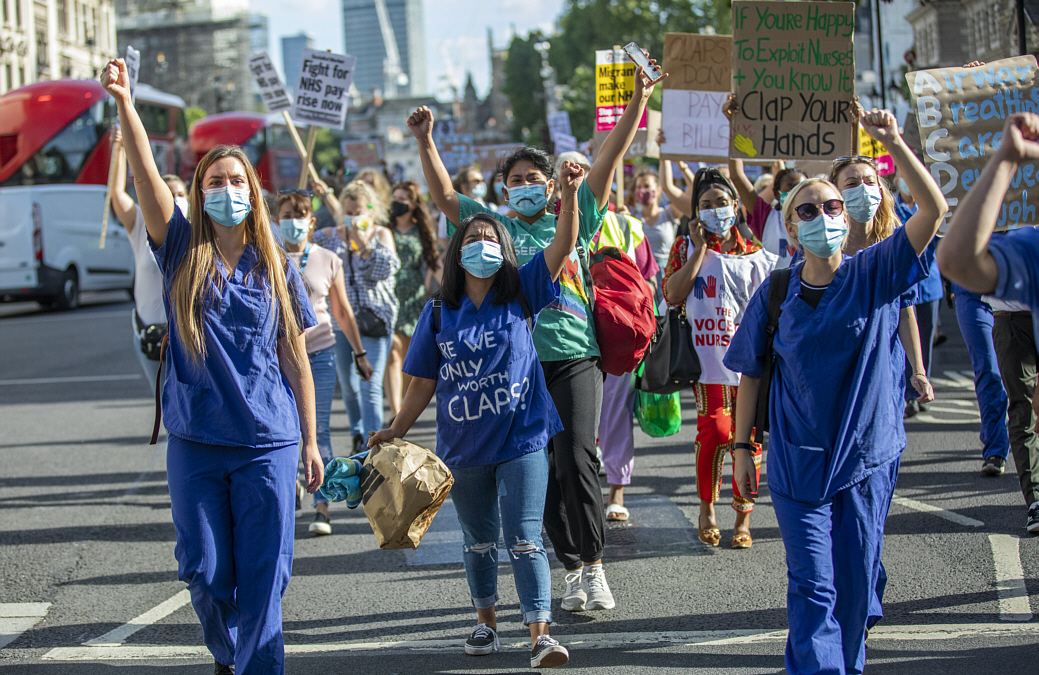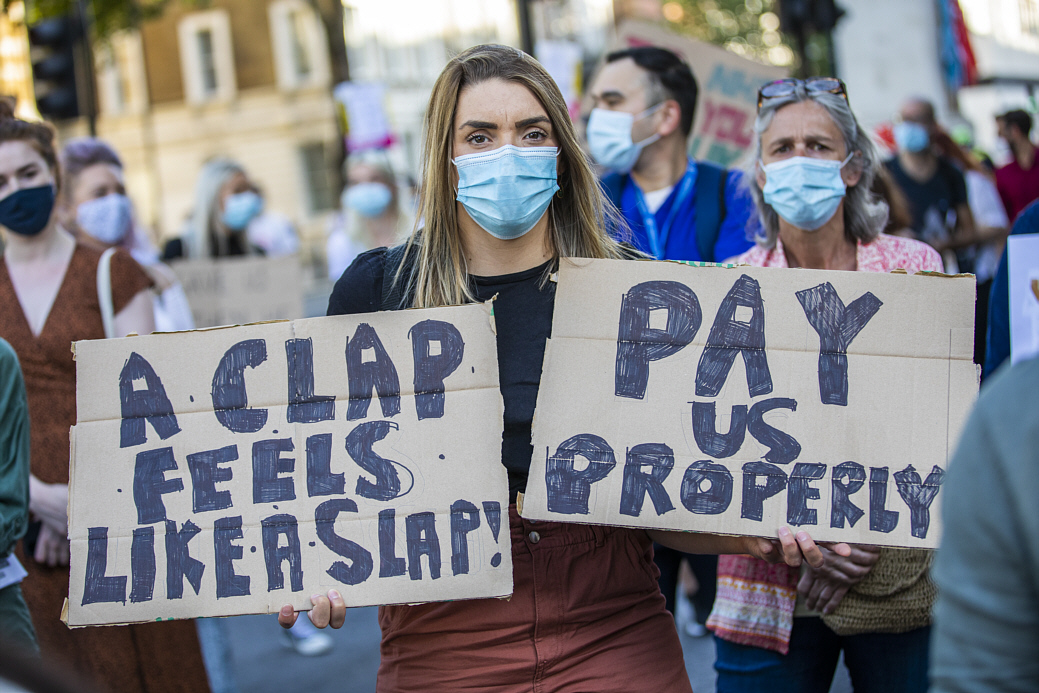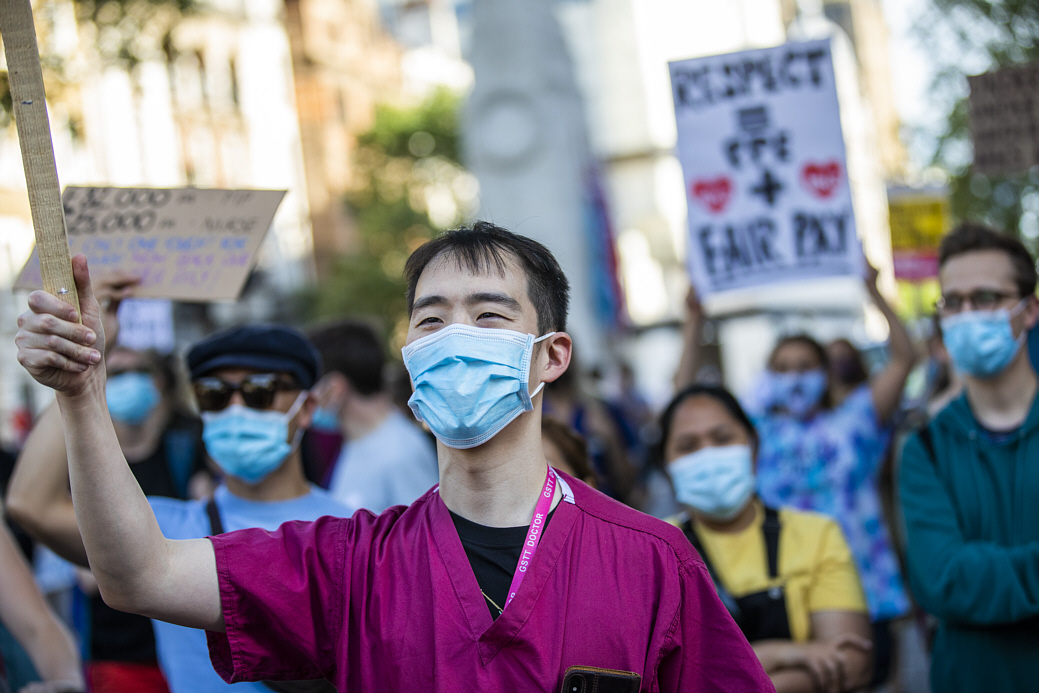 Nationwide protests on August 8
NHS workers say "NO!" to Public Sector pay inequality

For updates see our KONP website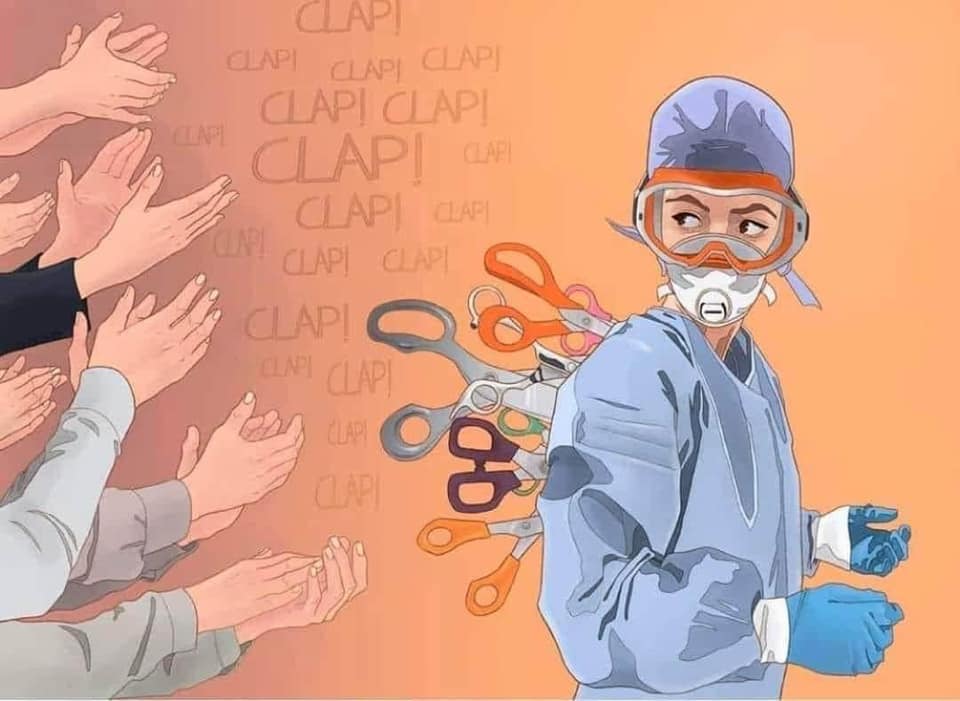 NHS workers throughout England, Wales and Scotland are organising a wave of protests on Saturday 8th August demanding a 15% pay increase paid from 1 December 2020, in order to start recovering a decade of lost wages.

From the organisers: "We are calling on NHS staff and supporters to join us to send a clear message to the government. We do not accept your plans to exclude us from the public sector pay increase, and we will make ourselves heard until you listen."

An online rally will also be taking place from 11am to 2pm for anyone who cannot join outdoor protests.

The following list will be updated over time as more events are organised. If possible, view the Facebook event to ensure that times or details have not changed.

Click here for list of events on the KONP website



14 health unions in joint call for early pay rise
Public want health pay rise straight away
(Read the original article on Unison website)

The government should build on the huge public support shown for the NHS during the pandemic by giving health workers across the UK an early pay rise, say health unions today (Friday).

The 14 unions - representing more than 1.3 million nurses, cleaners, physiotherapists, healthcare assistants, dieticians, radiographers, porters, midwives, paramedics and other NHS employees - have written both to the Chancellor and the Prime Minister calling for pay talks to start soon so staff get a wage boost before the end of the year.

In the letters, the unions - including UNISON, the Royal College of Nursing, the Royal College of Midwives, GMB, Unite and the Chartered Society of Physiotherapy - say the pandemic has made the dedication and commitment of NHS staff plain for all to see.

But now the public wants the government to turn its appreciation of health staff into something more substantial, say the letters. The unions' call comes as the UK prepares to remember everyone who's died from coronavirus and give thanks for the NHS on its 72nd birthday this weekend.

Health workers are nearing the end of a three-year pay deal. Unions are urging the government to provide the funding for a fair and early pay rise for all NHS staff - including the many domestics, catering workers, security guards and other support staff working for private contractors.

A fair wage increase would help staff feel valued after the huge pressures and challenges faced in recent months. There would also be a boost to the economy as health workers spend the extra money in their pockets on local high streets, say unions.

Improvements to staff pay would enable the NHS to hold onto experienced workers - including many who've returned to its service during the pandemic. An early rise would also help with the recruitment of new staff needed to fill the many vacancies across every ward, team, department and clinic, say the letters.

Ministers must not see the appeal for NHS workers to get an early pay rise as a Covid bonus, say unions. The three-year deal agreed in 2018 was simply the start of making up for the pay freezes and wage caps of previous years.

UNISON head of health Sara Gorton, who also chairs the NHS group of unions, said: "The applause and kind words shown during the difficult days of the pandemic were a huge source of comfort to NHS staff. But now the government should show its appreciation in a different way.

"Throughout lockdown, the public has seen the immense dedication, commitment and compassion shown by NHS staff, and now expects them to be rewarded.

"As the clapping returns this weekend for the NHS' birthday, ministers can show how much they value health staff by committing to an early pay rise that the entire country supports."

Hannah Reed from the RCN, who is also acting secretary to the health unions' group, said: "Across the NHS, nursing and healthcare staff are still working harder than ever. These people are the country's greatest asset. When we celebrate that, politicians must think about how staff can be fairly paid and valued.

"They do not need more warm words and praise that, to many, is already beginning to feel hollow. An earlier pay rise will go some way to showing the government values all they do, not just this year but day in, day out. Proper recognition and pay to match it will go some way to addressing the number of unfilled jobs."

Executive director for external relations at the Royal College of Midwives Jon Skewes, who is also treasurer for the NHS group of unions, said: "Midwives and all NHS staff deserve a fair and decent pay rise. They did before this pandemic and they certainly do now. To truly value the contribution of NHS staff, their pay must be restored in real terms.

"Currently there are staff shortages right across the NHS and the government should be doing all it can to retain and attract new staff.

"This is not an ask for an additional 'pandemic payment', but rather a pay deal that will ensure our NHS is fit for the future. We hope by bringing this pay settlement forward this can be achieved."

* The 14 NHS unions are: British Association of Occupational Therapists, British Dietetic Association, British Orthoptic Society, Chartered Society of Physiotherapy, College of Podiatry, Federation of Clinical Scientists, GMB, Managers in Partnership, Prison Officers Association, Royal College of Midwives, Royal College of Nursing, Society of Radiographers, UNISON and Unite.



Public want NHS staff to get early and significant pay rise

A majority of the public (69%) think all NHS staff should get an early pay rise before the end of this year, according to a UNISON/Savanta ComRes poll.

The findings also highlight how two thirds (66%) of the public believe a wage increase for employees - including healthcare assistants, nurses, hospital porters, midwives, paramedics and cleaners - should be significant in light of the Covid-19 pandemic.

The results send a clear message to the government that there's substantial public support for a new pay deal to be agreed now for health service workers, many of whom have risked their own safety to protect everyone else, says UNISON.

At the start of the month, UNISON and 13 other health unions - representing more than 1.3 million NHS employees across the UK - urged the Chancellor and Prime Minister to provide the funding for an early pay rise for all staff.

Health workers are currently in the final year of a three-year deal. They're due a pay rise next April, but unions want the government to show its appreciation for NHS staff by bringing it forward to this year.

However, the government failed to commit to an early pay rise last week when wage increases for 900,000 workers elsewhere in the public sector were announced.

Chancellor Rishi Sunak also warned of restraint in future public sector pay awards in a letter to government departments. The poll of more than 2,000 people found that almost three quarters (73%) backed an early pay rise for NHS staff between now and the end of March.

Most (69%) think it should be awarded before the end of the year, and nearly two in five (39%) believe the government should increase the pay of NHS staff immediately.

The study found that just one in ten (10%) think health workers should wait until next April for a rise. A minority (6%) believe any wage increase should be postponed until the government judges the time appropriate.

An overwhelming majority of the public (85%) believe pay should increase, including fewer than one in five (19%) who thought NHS staff should only get a small rise. This compared with nearly two in five (39%) who backed a medium increase, and more than a quarter (27%) a large one.

Commenting on the findings, UNISON head of health Sara Gorton said: "Last week was the perfect opportunity for the government to show it's in tune with public opinion and commit to an early pay rise for NHS staff.

"It's clear the public backs an early increase and to ignore them would be at the government's own peril. Any attempt to deny staff a significant wage increase could rebound badly.

"A wage increase needs sorting right away so the NHS is fit to face the winter ahead and all that may bring. It would help boost the economy too, as health workers spend the extra money in their pockets locally.

"Health unions have made a clear and reasonable case - it's down to the government to act and prove how much it values the NHS and its staff. Enough of hands together - people want to see hands in pockets, and now."

Support for an early 2020 pay rise was highest among younger adults aged 18-34 (74%), ahead of those aged 35-54 (69%) or aged over 55 (65%).

Women are bigger backers of a significant wage rise for NHS staff, with three in ten (30%) backing a large increase as opposed to just a quarter of men (24%).

Notes to editors:

- The poll was carried out by Savanta ComRes who surveyed 2,085 UK adults between 17 and 19 July 2020. Data were weighted to be demographically representative of all UK adults. Savanta ComRes is a member of the British Polling Council and abides by its rules. Full tables at www.comresglobal.com



Frontline nurses betrayed: No pay rise from government

See KONP website

Today the government announced a pay rise for some public sector workers. It notably excludes nurses, one of the biggest health & social care workforces in the UK. Understandably, this has gone down like a lead balloon, writes nurse JEMMA JAMES, a Staff Nurse based in Newcastle and a member of Nurses United.

Nurses aren't just angry because of pay. We're angry for a lot of reasons. We're angry because of years of brutal cuts to health and social care in the name of austerity. Cuts cost lives - patients and staff. It's that simple.

We're angry because nurses, carers and support workers are being paid less than a living wage and constantly told their professions are 'vocations'. We're angry at the ongoing privatisation of public services which has resulted in job losses, service cuts and the deaths of our most marginalised and disadvantaged.

We're angry that nurses and carers have the highest suicide rates in the UK due to huge workloads, unsafe staffing ratios, lack of support and media pressure. Before Covid-19 when was the last time you heard about a nurse or carer in the media unless they'd done something wrong?

We're angry at the fact we have to pay thousands of pounds to work full time, for free, to train and graduate with tens of thousands of pounds worth of debt (in England, anyway). We're angry at relying on food banks and charities such as the Cavell Trust to survive day-to-day.

We're angry, and heartbroken, that we've lost colleagues, loved ones and friends to Covid-19. The death toll has been huge. We've lost over 540 health and social care workers in the UK so far - especially care home and BAME nurses & care workers. Thousands more are still suffering from the illness and its complications. We've lost some to suicide from the trauma of what they've seen and dealt with during the pandemic whilst the survivors struggle with PTSD. Many will carry the scars for the rest of their lives.

Did the government respond with PPE, track and trace or early lockdown? No. Instead, they clapped and tried to sell us a wartime story based on 'blitz spirit' and the famed 'stiff upper lip'. After all, it's easier to accept losses when they're phrased like they're unavoidable or a necessary and heroic sacrifice.

But we are not angels. We are not martyrs. We are not brave warriors on some imaginary front line. We are human beings. We are highly trained professionals desperately doing our best despite the odds. And then the government announced this pay rise.

This pay announcement is designed to drive a wedge between public services. The government deliberately picked teachers for the highest raise as they're the group who've been repeatedly targeted for being 'paid to do nothing' which is hugely untrue but gives people a target to aim their rage and frustration at that's not the government. They also picked doctors because nurses and doctors have had each other's backs in previous pay disputes and strikes and they want to drive a wedge in there too. But why have they done it (this time)?

Maybe it was to hide last night's vote. A vote where the government refused to take all publicly owned health and social care, including the NHS, off the table for US-trade negotiations. Or maybe it's just the latest in a long line of increasingly desperate attempts by the government to point the finger at anyone and anywhere else for its disgraceful 'response' to the pandemic and silence calls for a full, independent enquiry.

The truth is, all public sector workers (& many more besides) deserve a pay rise. The government wants us divided so they can watch us fight each other rather than uniting and fighting them. We cannot turn on each other. We have to stand together & say enough is enough. No more cuts. No more privatisation. No more excuses. We deserve fair pay, all of us, and now is the time to push for it.



Pay is the elephant in the room

A deserved boost in pay for NHS staff, who have battled through the pandemic, is 'the elephant in the room' in the latest plan for the health service in England, according to a Unite press release on July 30.

Health and social care secretary Matt Hancock today welcomed the launch of the NHS People Plan as a new bureaucracy busting drive, so staff can spend less time on paperwork and more time with their patients.

Unite, which has 100,000 members in the health service, said that the aims of this latest plan for the NHS would be hampered by the fragmentation caused by the 2012 Health and Social Care Act with its remit for increased competition for NHS services.

Unite national officer for health Colenzo Jarrett-Thorpe said: "There have been a plethora of plans for the future of the NHS over the years and this latest manifestation neatly avoids 'the elephant in the room' - that of NHS pay.

"NHS staff have worked ceaselessly throughout the pandemic at great risk to themselves and a generous pay rise would recognise that dedication as well as staunch the 'recruitment and retention' crisis that is currently afflicting the NHS - for example, there are about 40,000 nursing vacancies in England alone.

"It is all very well for the plan to trumpet bureaucracy busting measures, but it was the flawed 2012 Act of the then health secretary Andrew Lansley that created the extra bureaucracy by fragmenting the NHS in the first place.

"One of the key chapters of the People Plan is 'belonging to the NHS'. This terms rings hollow to thousands of health visitors and school nurses cast outside the NHS; or the catering, cleaning, portering and maintenance staff that have been outsourced to private contractors or dispensed to wholly owned subsidiaries.

"The English ideological obsession with marketisation and privatisation in the NHS must be terminated without delay and this report does nothing to address this.

"We, of course, welcome such measures in the plan as boosting the mental health and cancer workforce; full risk assessments for vulnerable staff, including BAEM workers; and all jobs to be advertised with flexible working options from January.

"But without addressing the issue of pay, highly skilled NHS staff will consider looking for more lucrative work elsewhere, possibly abroad."

Last week, chancellor Rishi Sunak awarded up to a 3.1 per cent pay rise for 900,000 public sector workers, including doctors, teachers and police officers. Unite accused the chancellor of having 'a selective memory' when it comes to public sector pay, rewarding some, but ignoring hundreds of thousands of others.



How daily press reported July 29 protest