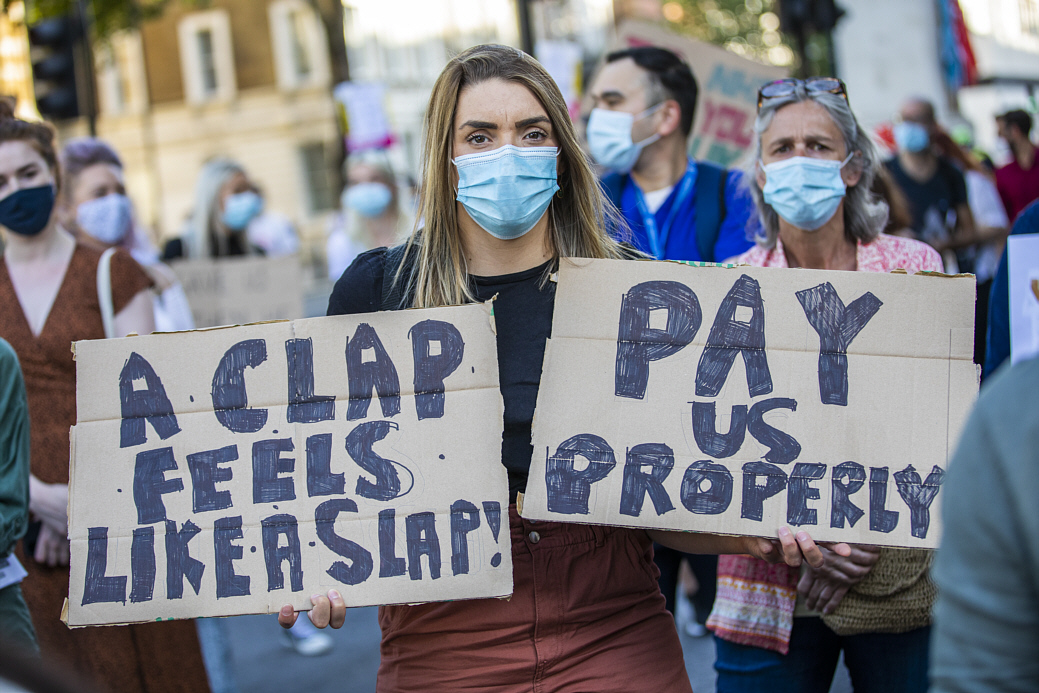 (Photo Jess Hurd, reportdigital.co.uk)


Anger builds at 1% pay insult to NHS staff
The TUC has released new analysis (see table below) which shows how major groups of NHS workers will be much worse off in real terms in 2021-22 than in 2010 even after the government's decision to offer NHS staff a pay rise of just 1% in 2021-22.

Nurses' pay will be down as much as £2,500 in real terms compared to a decade ago. But the picture is bleak for many other NHS staff too:


Porters' pay will be down by up to £850
Maternity care assistants' pay will be down by up to £2,100
Paramedics' pay will be down by up to £3,330
The pay figures are for individual occupations at the top of the national agenda for change bands.

The TUC analysis also reveals that NHS workers across many occupations and pay bands will suffer a real-terms pay cut in 2021-22.

For example, an experienced nurse or midwife (NHS band 5) will a face an annual real-terms pay cut of up to £153 in 2021-22 as a result of the planned 1% increase.

Unions have described the latest pay offer to NHS workers as an insult to their hard work and dedication during the pandemic. TUC General Secretary Frances O'Grady said:

"After years of real-terms pay cuts the government's latest offer is a hammer blow to staff morale. This boils down to political choices. "Ministers have chosen to spend hundreds of millions on outsourcing our failed test and trace system and on dodgy PPE contracts. But they have chosen not to find the money to give nurses, paramedics and other NHS workers fair pay.

"Boosting pay for NHS key workers will help our local businesses and high streets recover faster - because their customers will have more cash to spend. And that will help other workers get a pay rise too."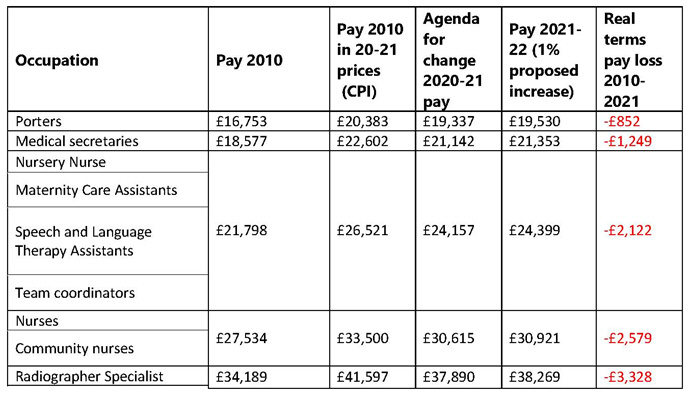 Short term penny-pinching will worsen staff shortages
Vacancy rates among nurses across England have remained static - around 10 per cent, or 36,500 - for the past two years, and have actually increased in the South East (to 11.6 per cent).

This has exposed the emptiness of government claims that they were firmly on track to delivering 50,000 additional nurses by 2024.

A GMB poll of NHS members last December revealed almost two thirds demoralised by the way they had been treated and considering leaving the NHS.

However, the news that NHS salaries were set to rise by a miserly 1 per cent generated widespread condemnation and threats of strike action from Unite and the Royal College of Nursing.

UNISON's general secretary Christina McAnea said

"Let's be honest here, a 1% pay rise isn't even a pay rise when expected inflation rises are taken into account. And of course it is an insult to the staff who are, as you read this, still in the heat of battle against COVID-19.

"But before the pandemic hit there were over 100,000 vacancies in the health service. Can you imagine the message this 1% pay offer sends to anyone thinking of working in the NHS, never mind those already there?"

In addition to the vacancies as many as another 100,000 staff have been off sick, an estimated 50,000 of them with Covid, self-isolating, or shielding a vulnerable family member.

Nonetheless the Department of Health and Social Care submission to the Pay Review Body argues the 1% rise would strike the "right balance between pay and staff numbers". The PRB will make its recommendations in early May - but ministers will make the final decision.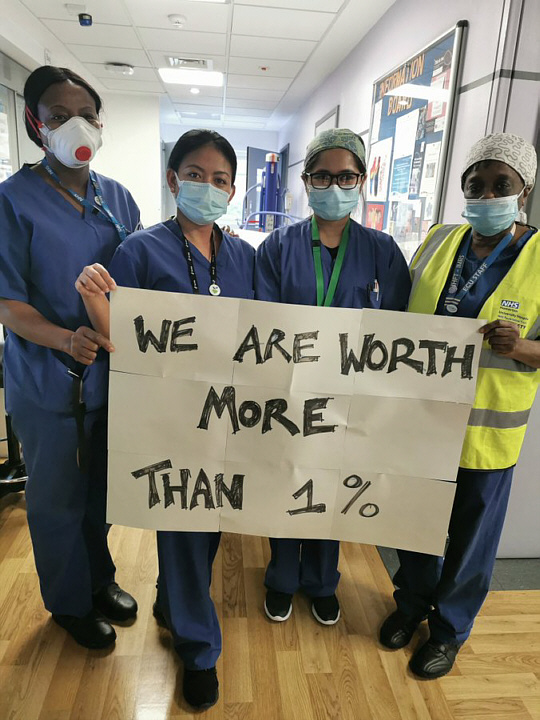 Nationwide protests as NHS workers say "NO!" to Public Sector pay inequality

NHS workers throughout England, Wales and Scotland organised a wave of protests on Saturday 8th August last year demanding a 15% pay increase paid from 1 December 2020, in order to start recovering a decade of lost wages.

From the organisers: "We are calling on NHS staff and supporters to join us to send a clear message to the government. We do not accept your plans to exclude us from the public sector pay increase, and we will make ourselves heard until you listen."

An online rally will also be taking place from 11am to 2pm for anyone who cannot join outdoor protests.


NHS workers say "NO!"
Facebook page with discussion open to those who join the group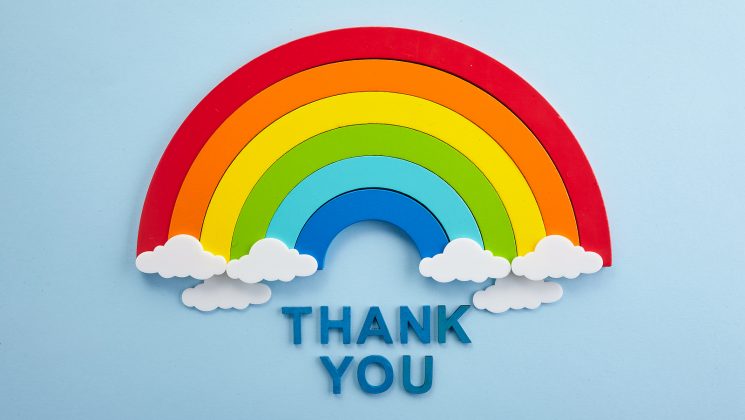 Show support for NHS pay rise with posters in windows
Households urged to display artworks on Thursday 1 April
(Read the original article on Unison website)

People across the country are being asked to put colourful posters in their windows in support of a proper NHS pay rise, in a campaign launched today (Friday) by health unions representing more than a million health workers.

Fourteen unions - including UNISON, the Royal College of Nursing and the Royal College of Midwives - are urging households across the UK to show their appreciation for NHS workers with bright, hand-finished displays on Thursday 1 April.

The unions say this will show the public strength of feeling on the day NHS staff should have received a wage increase and be a welcome 'thank you' for all their tireless efforts over the past year to keep everyone safe.

Delays mean health workers - including cleaners, porters, physiotherapists, 999 call handlers, nurses, midwives and healthcare assistants - must now wait until later in the year for the wage rise they are due. To make matters worse, say unions, the government has proposed a rise of just 1%.

UNISON general secretary Christina McAnea said: "Everyone can join the NHS 'thank you' with an eye-catching window show. The brighter the better to bring cheer to everyone's street and to those giving their all on the front line.

"The public have shown they genuinely value health workers. But ministers have put on a false front with praise one minute and a meagre 1% the next.

"Ministers must display more imagination and heart. The Scottish government's already shown if the will is there, the money can be found."

Royal College of Nursing chief executive and general secretary Dame Donna Kinnair said: "Last year the public put rainbow pictures in their windows to say thank you to NHS staff for their amazing work during the pandemic.

"Now we're urging them to put posters up again, this time to help ensure those staff are rewarded properly for their skill, dedication and professionalism.

"Nursing staff are disgusted with the government's 1% pay proposal. The public is with us. The government needs to listen."

Royal College of Midwives chief executive and general secretary Gill Walton said: "We're a week away from 1 April, when NHS staff should have received a pay rise. But we're still fighting for what the government should have already given - a significant pay rise.

"The public are with NHS staff and their continued support is much appreciated. NHS staff have battled the pandemic in unbelievably tough conditions.

"They just want a decent pay rise. Scotland's proved a significant, backdated offer is affordable. All the UK's NHS workers deserve a proper wage increase."

Notes to editors:

- The event in support of the NHS takes place on Thursday 1 April. The public are encouraged to make their posters as colourful as possible and display them where they can be clearly seen by passers-by.

- Health workers are currently in the final year of a three-year deal. They're due a pay rise on Thursday (1 April). The government's evidence to the NHS pay review body has proposed a 1% pay increase. The pay review body is due to make its recommendation later in the year. The Prime Minister has told MPs to wait for the pay review body report and that the government won't make a decision on pay until then.

- The 14 NHS unions are: British Association of Occupational Therapists, British Dietetic Association, British and Irish Orthoptic Society, Chartered Society of Physiotherapy, College of Podiatry, Federation of Clinical Scientists, GMB, Managers in Partnership, Prison Officers Association, Royal College of Midwives, Royal College of Nursing, Society of Radiographers, UNISON and Unite.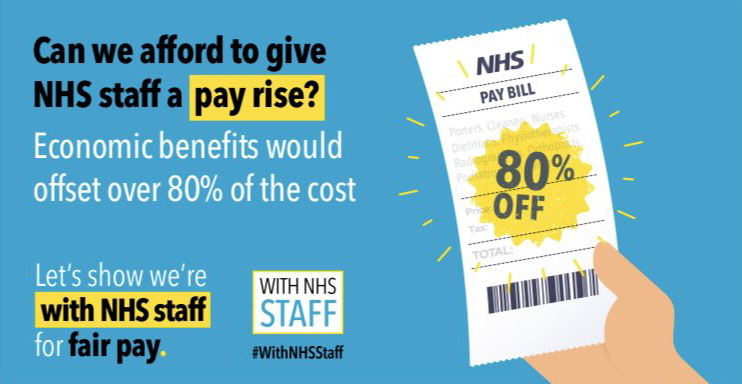 #WithNHSStaff is a joint campaign by the 14 unions collectively representing around a million NHS staff employed under the Agenda for Change pay system.


They've been there for us. Now it's our turn. Let's show we're with NHS staff for fair pay.

The skills and dedication of our NHS staff have never been more needed. But they're burnt out, demoralised and underpaid.
Over 100,000 NHS posts are vacant
4 in 10 NHS workers receive a state benefit
NHS staff need your help to get a message to politicians: it's time to pay NHS staff properly for the critical and important work they do, and get our NHS fit to face the challenges ahead.

Check out the unions' case for an NHS pay rise

To show you're #WithNHSStaff, you can: Share your support on social media using the campaign hashtag. To encourage more people to join you and write to their MP, write a social media post using #WithNHSStaff or WhatsApp or email friends and family to encourage them to email their MPs too.

Pay is the elephant in the room

A deserved boost in pay for NHS staff, who have battled through the pandemic, is 'the elephant in the room' in the latest plan for the health service in England, according to a Unite press release on July 30.

Health and social care secretary Matt Hancock today welcomed the launch of the NHS People Plan as a new bureaucracy busting drive, so staff can spend less time on paperwork and more time with their patients.

Unite, which has 100,000 members in the health service, said that the aims of this latest plan for the NHS would be hampered by the fragmentation caused by the 2012 Health and Social Care Act with its remit for increased competition for NHS services.

Unite national officer for health Colenzo Jarrett-Thorpe said: "There have been a plethora of plans for the future of the NHS over the years and this latest manifestation neatly avoids 'the elephant in the room' - that of NHS pay.

"NHS staff have worked ceaselessly throughout the pandemic at great risk to themselves and a generous pay rise would recognise that dedication as well as staunch the 'recruitment and retention' crisis that is currently afflicting the NHS - for example, there are about 40,000 nursing vacancies in England alone.

"It is all very well for the plan to trumpet bureaucracy busting measures, but it was the flawed 2012 Act of the then health secretary Andrew Lansley that created the extra bureaucracy by fragmenting the NHS in the first place.

"One of the key chapters of the People Plan is 'belonging to the NHS'. This terms rings hollow to thousands of health visitors and school nurses cast outside the NHS; or the catering, cleaning, portering and maintenance staff that have been outsourced to private contractors or dispensed to wholly owned subsidiaries.

"The English ideological obsession with marketisation and privatisation in the NHS must be terminated without delay and this report does nothing to address this.

"We, of course, welcome such measures in the plan as boosting the mental health and cancer workforce; full risk assessments for vulnerable staff, including BAEM workers; and all jobs to be advertised with flexible working options from January.

"But without addressing the issue of pay, highly skilled NHS staff will consider looking for more lucrative work elsewhere, possibly abroad."

Last week, chancellor Rishi Sunak awarded up to a 3.1 per cent pay rise for 900,000 public sector workers, including doctors, teachers and police officers. Unite accused the chancellor of having 'a selective memory' when it comes to public sector pay, rewarding some, but ignoring hundreds of thousands of others.



How daily press reported July 29 protest