NHS Anniversary 2021
Protest on July 3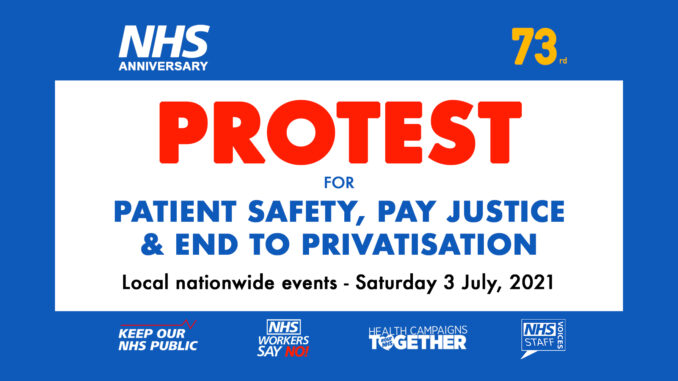 Seventy-three years ago, despite a war-ravaged economy, we created the world's first universal health service: the NHS. Now as we battle the most serious pandemic in 100 years, with millions on waiting lists, the NHS is being thanked and applauded - but starved of real resources. The truth is the NHS was struggling before the Covid-19 pandemic, after years of government cuts led to desperate winter crises and 100,000 vacant posts.

A Day of Action has been called by Health Campaigns Together, Keep Our NHS Public, NHS Workers Say No and NHS Staff Voices. Join us up and down the UK to demand: patient safety, pay justice and an end to privatisation!

We're calling on all local Keep Our NHS Public groups to start organising now for local activities on the day. The exact format of your activities will be up to local organisers but we hope to coordinate them across the whole country. We have received support from all the health unions, and we are now writing to all unions across the TUC for support and publicity.

The Pay Review Body will be making its findings public in June, which will bring the whole issue of pay back into the media. We want to show maximum solidarity with NHS staff as well as making sure that patient safety, privatisation and the government's woeful handling of the Covid-19 pandemic remain clearly in the public eye.

FIND A LOCAL EVENT NEAR YOU

If you are organising an event, please fill out this quick google form to give KONP the information we need to include it on our list and help promote and publicise it.

If you don't see an event set up in your area and would like to help setting one up, please email campaigns@keepournhspublic.com.

We can also supply customisable publicity materials, including:
You can download our promotional leaflet below for local printing, or you can order leaflets directly from Keep Our NHS Public:
Please contact KONP at nationaladmin@keepournhspublic.com if you have any queries about leaflet orders.

Leaflet version #1

Ready-to-go version with QR CODE to direct them to our list of nationwide events DOWNLOAD

Leaflet version #2

Here's the second version which has space for you to add your own local event details DOWNLOAD


Time to get planning!

Getting started: If you are in a local Keep Our NHS Public group, hold a meeting to plan your event. Get in touch with local NHS trade union branches and local trade union and labour movement organisations more generally, inviting them to join in organising.

Health and safety: It is important to take steps to ensure your event will be Covid-safe, such as an outdoor setting, masks, hand sanitiser and, of course, social distancing. Consider notifying police as soon as is practical; you may need to provide an event plan and/or risk assessment. If running an event outside a hospital you might also consider notifying management of your plans.

Promoting and publicising: You can network for support and publicity from a diverse range of sources, such as local councillors, local media, and invite other friendly activist, community or faith organisations in your networks. Offering to send a member to speak at other groups' meetings to present the invitation is often a good way of establishing a connection. If you have access to social media outlets, use these for promotion too!

Leafleting sessions can also be very effective. Leafleting can be done in public places but also in more focussed ways, such as outside NHS workplaces, vaccination centres, etc. Finally, if you have the capacity, local events and stunts like banner-drops can also be a great way of building interest and attracting attention in the run-up to the event.

Running the event: Depending on what you plan to do, try to work out your plan for activity on the day as much as possible: e.g. potential speakers, stewards to help the event stay safe, any equipment you might need like a PA system, and preparing homemade placards and banners. It's also worth considering how your plan might need adapting on the day, e.g. if the weather is rainy.

Remember: contact KONP at campaigns@keepournhspublic.com if you want to ask for help with organising your event!

The date will come around fast, so let's get organising to make the biggest impact we can for our NHS!



---
What we did last year to celebrate NHS 72nd anniversary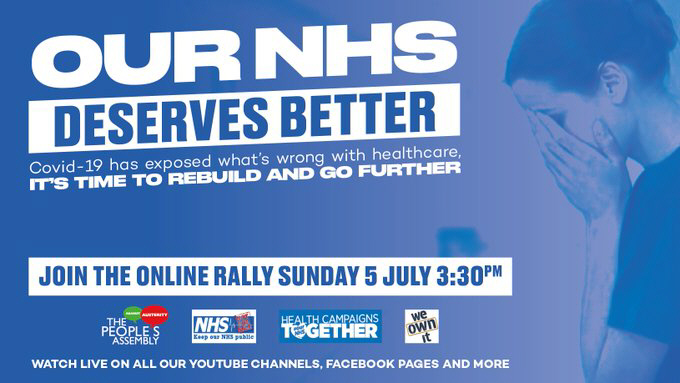 Last year, 2020, in the midst of lockdown, our Sunday afternoon rally (called by Health Campaigns Together, Keep Our NHS Public, We Own It and People's Assembly, and supported by 15 national trade unions and other campaign groups) reached an audience of over 60,000 - and can still be viewed on Youtube now...

... and see our Photo Gallery of events that happened around the country on 4 July.


NHS 72 Anniversary events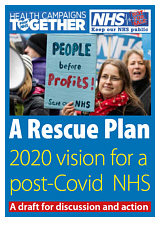 Campaigners were active in many parts of the country on July 3 and 4 to commemorate the 72nd anniversary of the NHS on Sunday July 5 - and press for a change of government policy to ensure it can live on for another 70 years.

The NHS was established on July 5 1948, in the aftermath of World War II, (a conflict that saw 67,100 British civilians killed) to create something better for us all.

During the coronavirus crisis in 2020, NHS and Social Care workers have been called upon to work on the frontline to keep us safe. They have often had to work without proper resources and PPE, within an already failing system. Many have been forced to sacrifice their lives. In the UK we have now reached the frightening number of excess deaths linked to coronavirus of 64,000 (up to 28 May 2020), the second-highest death toll in the world.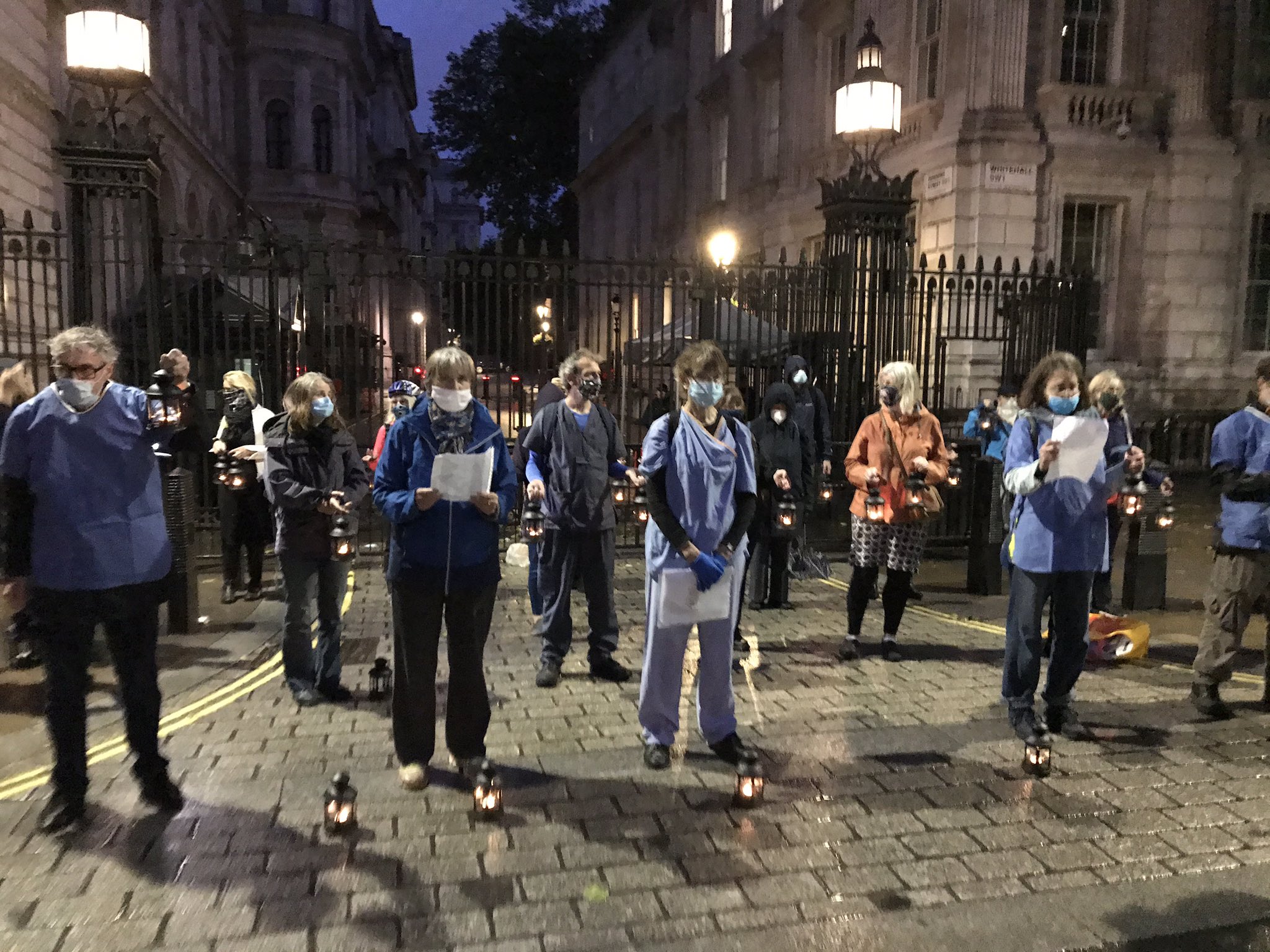 The Downing Street vigil
On the evening of Friday July 3, and covered by mainstream media including Sky News and the Evening Standard, protestors carried 65 lanterns from St Thomas' Hospital in South East London, over Westminster Bridge to Downing Street. Keep Our NHS Public joined up with campaigners from The People's Assembly Against Austerity, We Own It and Health Campaigns together for the evening protest, with each lantern representing 1,000 "excess deaths" in the UK during this pandemic due to the Government's botched response. Upon arrival at Downing Street NHS staff read out the names of colleagues who had died from Covid19, to date.


The NHS deserves better, we all deserve better.
The continuing death toll is a damning indictment of recent Government policy and its mishandling of our NHS. When we emerge from this deadly crisis, this can no longer be tolerated. This is also a critical moment when the systemic inequalities in our society are starker than ever.

We, therefore, demand an immediate end to the hostile environment, all migrant charging to be stopped and an urgent investigation into the disproportionate death toll in Britain's BAME community during this pandemic.

Likewise, the many disadvantages placed on disabled people and others with additional needs have never been clearer. We believe this moment gives us a unique opportunity to demand we not only rebuild the NHS but go much further and call for radical reform of social care provision.

Covid-19 has exposed what's wrong with healthcare. Now, in the 'spirit of 2020', it's time to rebuild and go much further.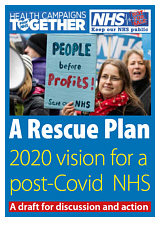 On July 5 we launched our draft Rescue Plan as a basis for discussion and united action. We need to convince politicians of all parties to support policies that will equip our NHS and social care system to meet the challenge of coping with ongoing Covid infection while also restoring routine and that have been cut back or suspended and emergency services for all who need them.

The Sunday rally was called by Health Campaigns Together, Keep Our NHS Public, We Own It and People's Assembly, and supported by 15 national trade unions and other campaign groups.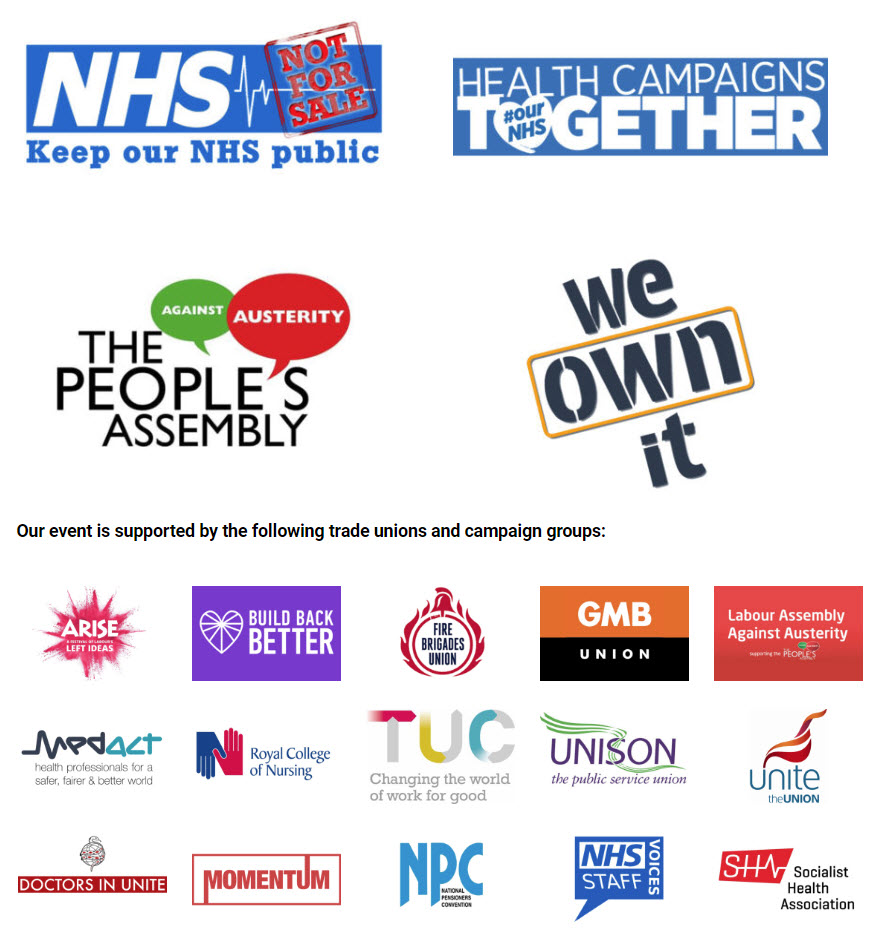 July 4 Events

Local Keep Our NHS Public groups ran socially distanced events in several areas to show support for our health service and its amazing staff and to demand it be fully restored as a well-funded, universal public service.


See the Photo Gallery of events around the country

LONDON

GREATER MANCHESTER: Three socially distanced protests in Greater Manchester at 12 noon on 4th July.