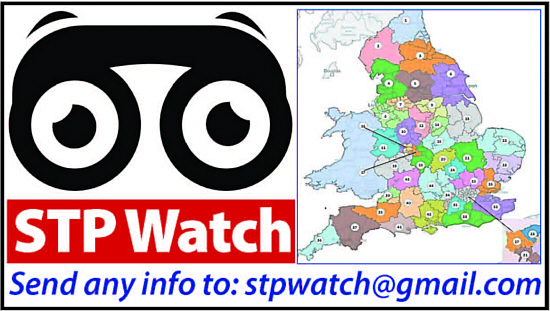 All 44 STPs have now been published - some of them only in response to campaigners, and some of these still incomplete, lacking Appendices outlining finances and more details.

Click here for a detailed list of STP Footprints, appendices and additional information.

A growing list of council leaders and bodies have spoken out and challenged local STPs, in London, the Midlands, the North West and Yorkshire. The most recent is Liverpool, where the council leader and the Health & Wellbeing Board came out strongly against the Cheshire & Merseyside STP. Hammersmith & Fulham council, in alliance with Ealing, is committed to a legal challenge to their local STP, which threatens beds and services in Ealing and Charing Cross hospitals. There has also been a rejection of STPs by boroughs in SW London and North Central London. Let us know where your local council (and MPs) stand on STP plans.



There's one common factor: health workers and the local public are the last to be informed and only offered "engagement" or token consultation on already final plans as a final gesture before implementation. Since the NHS is so obsessively secretive, Health Campaigns Together and other campaigners across the country are pressing council leaders - our elected representatives - to follow those in Hammersmith & Fulham, Ealing and Sutton refusing to sign up for STPs that involve cuts in services, and the growing list of councils that have published STPs ahead of NHS England's plans.

The Plans may be delayed, but the pressure for cuts is forcing the pace of changes that are NOT set out in the STPs. A&E units, maternity and other services are being closed on "safety" grounds without consultation in smaller hospitals - indicating the way many of the cutbacks will be driven through, regardless of the fancy phrases in the STP plans.

But this does not mean we should not challenge the STPs in every area, the assumptions they are based on, the lack of evidence for some of their more ambitious innovations, and the lack of capital for any of the promised new services. Taking on the STPs helps to alert local people to the looming threat to local services, and gear up for the battles that must be waged to stop local closures that can put lives and health of vulnerable people at risk.

There is still no proposal for public consultation on the Plans - or even in some cases publication of the proposals - before they are submitted to NHS England and then implemented.

It seems that the governance structures may also vary: some plan to establish a new Health & Care Executive, with delegated powers to decide policy and take binding decisions on behalf of all constituent organisations. This fits with Simon Stevens' clear call for new forms of Combined Authorities that enable local NHS bosses to "overcome veto power" - as outlined in an interview with the Health Service Journal.

STP Watch will share relevant news and outlines of STP plans - June, October and subsequent - as we receive them, so that local campaigners can be aware of what is taking shape across the country. Please forward any new information to us at stpwatch@gmail.com.



National / Background Material
Areas for which we have information
Click here for a detailed list of STP Footprints, appendices and additional information.