A coalition to defend #ourNHS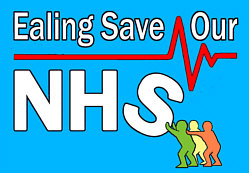 Ealing Save Our NHS

Ealing Save Our NHS is an active campaign against cuts and privatisation and in defence of local hospitals in North West London.

We have a Facebook page, twitter account and website (any day now!) all in the same name.

We run street stalls organise protests, meetings and Street events.


Demonstration in response to growing concerns health bosses will shut down paediatrics under a smokescreen of making cuts to improve services
Check the photos gallery here

Hundreds of campaigners marched through the centre of Ealing to make some noise to save the children's ward at Ealing Hospital.

Angry parents joined the march which set off from Haven Green, opposite Ealing Broadway station, on Saturday (March 12), with a show of support from local shoppers as the demonstration passed through the the town centre in protest against plans which could see the closure of the paediatrics department.

As part of cuts being made by the Ealing Clinical Commissioning Group (CCG), changes under Shaping a Healthier Future, the organisation that shut Ealing maternity unit, campaigners believe health bosses are hiding behind a smokescreen proposing cuts to the children's ward when in fact it will be shut down.

READ MORE: Politicians join picket lines as more than 1,000 operations are cancelled.

Oliver New, from Ealing Save Our NHS, which organised the demonstration, said nobody supported the closure plans.

He said: "Health bosses want to close our children's ward, and stop sick or injured children going to A&E. If parents take them to A&E anyway, they will just be sent elsewhere. The delay could be serious or fatal.

"Local parents are right to be really angry. Already they closed Maternity and it seems clear they are clearing the way to close the whole A&E at Ealing Hospital."

With the sun shining, a band of Ukulele players entertained the crowds as they gathered at Haven Green before marching onto the Broadway and up to Perceval House, where they were greeted by a jazz band.

Protesters rallied outside Ealing council's doorstep to create noise to save the children's wards.

Ealing mum Mary Lynch, who spoke at the rally afterwards, said her children had need of Ealing Hospital several times and that it had saved her son's life.

Other speakers included a junior doctor, and GLA member Onkar Sahota, Steve Pound MP , junior doctor and mother Helen Laycock and paediatric hospital consultant Tony O'Sullivan who dismissed suggestions that children would be better served by closure of the ward.




Copyright © 2021 Health Campaigns Together